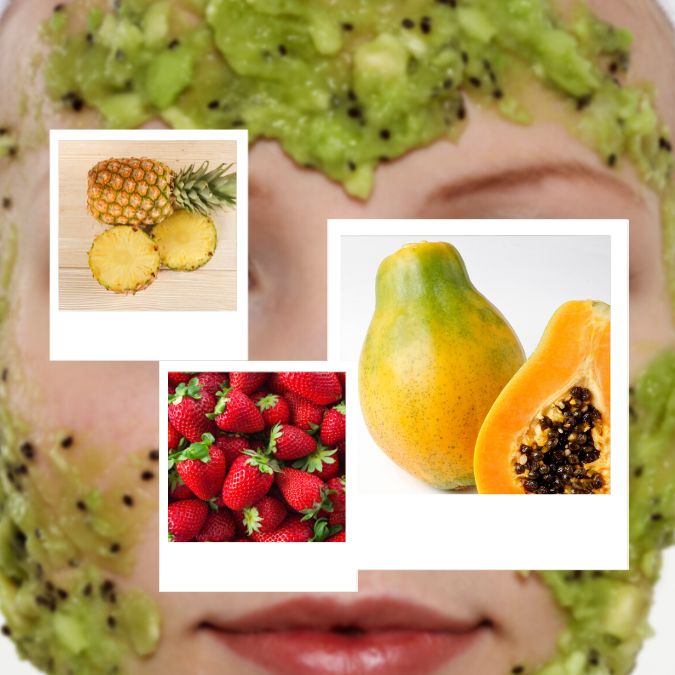 Winter can be especially tough on your skin and can cause dryness, flaking, and dullness. But don't despair! There are several DIY exfoliating fruit masks that you can make at home to help improve the appearance of dry skin. 
Why should you exfoliate?
It removes dead skin cells, leaving your face feeling smooth and refreshed.

Unclogs pores reducing the risk of breakouts.

Brightens complexion by removing dull, dead skin cells that can make your skin look tired and dull.

Stimulates collagen production: 

Improves product absorption: moisturizers and serums, will be better able to penetrate the skin and be more effective.
It's important to note that over-exfoliating can cause skin irritation, dryness, and sensitivity. It's recommended to exfoliate once or twice a week with a gentle exfoliant.
Let's take a look at a few easy and delicious exfoliating fruit masks:
 Papaya Mask: Mash up a ripe papaya and apply it to your face, leave it on for 10-15 minutes, then rinse off with warm water. Papaya contains enzymes that can help exfoliate dead skin cells and reveal brighter, smoother skin. This mask is especially beneficial for those with sensitive skin since papaya is naturally gentle and hydrating.
Strawberry Mask: Mash up a few strawberries and mix with a tablespoon of honey. Apply to your face, leave on for 10-15 minutes, then rinse off with warm water. Strawberries contain salicylic acid which can gently exfoliate dead skin cells and help unclog pores. This mask is perfect for those who have oily or acne-prone skin since salicylic acid helps to reduce excess sebum and prevent breakouts.
Pineapple Mask: Mix a few tablespoons of crushed pineapple with a tablespoon of yogurt. Apply to your face, leave on for 10-15 minutes, then rinse off with warm water. Pineapple is rich in vitamin C which helps to promote collagen production and even out discoloration in the skin. Plus it smells heavenly! This mask is great for all skin types as it provides hydration while still gently exfoliating away dead cells leaving you with healthy glowing skin!
Not only are these masks effective but they smell and feel delightful.  So why not give them a try today? Your complexion will thank you!
Continue reading